INSIDE
Every Comfort
and a hearty welcome

OUTSIDE
Great Views

from the Terrace


---
---
Do!
Walk:
Uchisar, there and back again
Eat:
Haydari with fresh bread
Valley:
Güldere, down from Aktepe

Museum: The museum got real expensive in the last years.
If you have money and a serious interest in ancient religious art, you have to visit the museum.
If you just may get a bit of the feeling how ancient live may have been in Göreme, spare your money and visit some not so famous, but even more impressive churches like 'Jusuf Koc'.
Carolyn and Ihsan will tell you where to find them. (martin)
---
Last update:29.05.2010
---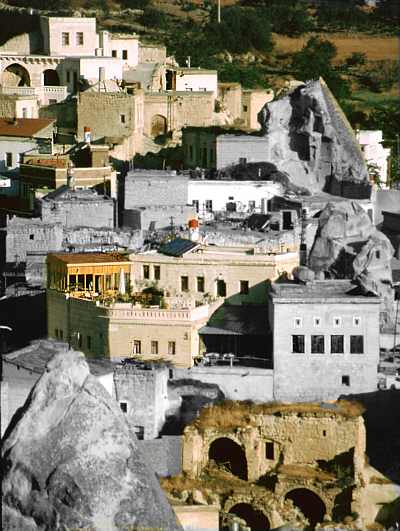 ---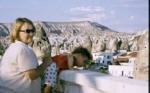 Kookaburra is a family run Pension.


Ihsan grown up in Göreme, offers you anything you might need to have fun during your holidays in one of the strangest landscapes on earth.


You get here clean and charming rooms, international satelite TV, wireless and even central heating, as well as tips how to explore the surrounding valleys on your own.
---
---
HOW MUCH?
more or less
6 Beers!
To tell prices is not so easy. In some years year turkey undergoes a high inflation. Therefore sometimes prices have to be adjusted.
So if you want to know the exact price, just call the pension.
But for an first impression just count with the price of more or less 7 Beers per person and night, in a real nice room with private bathroom.
Breakfast is not included. The pension offers a wide varity of tasteful meals
Rooms without shower ar even cheaper. And keep in mind, a beer in Göreme is cheaper than at the coast or in Istanbul.
---